Severe hypocalcemia as a cause of transient ischemic attack? A debatable case and evidence from literature
Keywords:
Ishemic event, hypoparathyroidism, total thyroidectomy, hypocalcemia, TIA
Abstract
Hypocalcemia and transient ischemic attack (TIA) are different medical disorders; however, limited evidence suggests a possible link between the two. The underlying pathomechanisms by which hypocalcemia may cause cerebrovascular damage are difficult to comprehend. The aim of the study was to present an individual experiencing TIA that possibly due to severe hypocalcemia that associated with hypoparathyroidism after total thyroidectomy; and to explore the available evidence of its cause-effect relationship through available literature. A 68-year-old man presented to Dr. Zainoel Abidin Hospital, Banda Aceh, Indonesia with complaints of weakness, especially in the right limbs that had worsened in the last week. The patient experienced unconsciousness for an hour before the admission; disorientation and anterograde amnesia over the time of recovering of consciousness. Other complaints included frequent muscle cramps, numbness in both arms and legs, dizziness, swallowing difficulty, nausea, and vomiting. The patient had a history of total thyroidectomy for a large struma diffuse 18 years ago and was prescribed several medications. However, the patient was overwhelmed by forgetfulness which had become more frequent in recent months resulting in medication nonadherence. The vital sign was stable and Chovsteck's sign was positive. The Montreal Cognitive Assessment (MoCA) revealed impairment in the visuospatial/executive component and delayed memory. Laboratory tests revealed severe hypocalcemia, altered thyroid function, hypomagnesemia, elevated D-dimer and fibrinogen, and vitamin D deficiency. TIA and severe hypocalcemia were proposed as the diagnosis. Prompt initiation of appropriate treatment, including calcium supplementation, anticoagulation, and neuroprotective agents, led to significant clinical improvement. Evidence from available literature suggests that there is a possible link between severe hypocalcemia and TIA that occurred in this patient. However, more studies are warrant to establish this cause-effect relationship.
Downloads
Download data is not yet available.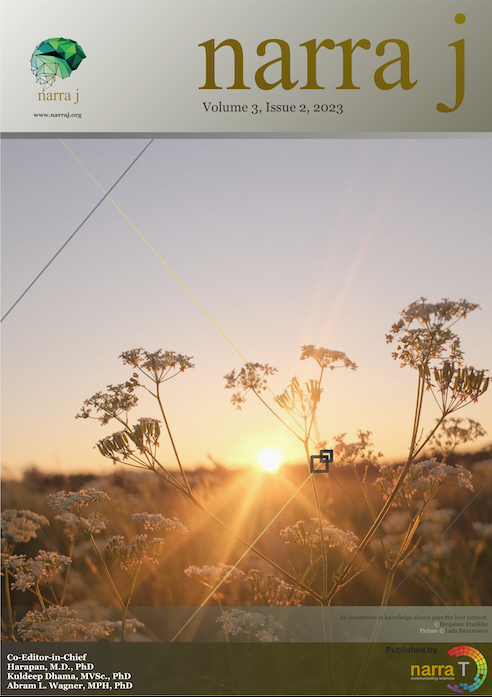 Downloads
License
Copyright (c) 2023 Hendra Zufry, Maulina Debbyousha, Sarah Firdausa, Agustia S. Ekadamayanti, Krishna W. Sucipto, Julia Sari
This work is licensed under a Creative Commons Attribution-NonCommercial 4.0 International License.