Safety evaluation and effects of cascara pulp Gayo Arabica coffee cream as anti-photoaging in animal model
Keywords:
Safety evaluation, photoaging, coffee, irritation, TNF-α
Abstract
Prolonged sunlight and ultraviolet (UV) exposure causes premature skin aging called photoaging and coffee-derived topical antioxidants may help to reduce this process. Since a significant amount of antioxidant-rich cascara pulp are wasted in coffee processing, this study aimed to evaluate the safety of cascara extract cream of Gayo Arabica coffee pulp (CECGACP) as anti-photoaging in male Wistar rats (Rattus norvegicus) by assessing the skin primary irritation index (PII), skin macroscopic changes and the level of tumor necrosis factor-alpha (TNF-α). Twenty-five rats were randomly divided into five different groups: negative control (base cream only), positive control containing L-ascorbic acid 3%, and three treatment groups treated with cream containing 5%, 7.5% and 10% of CECGACP. The CECGACP was extracted, formulated into cream as a topical treatment and applied on the backs of the rats two times a day, once before the UV exposure and four hours after the exposure. After four weeks, the skins were macroscopically examined, and the TNF-α levels were measured. The PII was assessed after applying the cream 24 hours before UX exposure. Our data suggested that CECGACP was considered safe because there were no erythema and edema formation on the skin of the rats with PII score of 0 (classified as no irritation or negligible). After UV exposure, all rats had visible wrinkles and erythema on the skin in particular in the first week. After administration of CECGACP, both wrinkles and erythema were decreased. The levels of TNF-α varied from 0.15±0.02 ng/mL in the negative control and CECGACP 7.5% rat groups to 0.19±0.03 in the positive control group; however, there was no significant difference among all the groups. Our study suggests that CECGACP is safe to use in Wistar rats and able to reduce the erythema and edema due to UV exposure. However, the application of CECGACP does not provide a significant reduction of TNF-α levels.
Downloads
Download data is not yet available.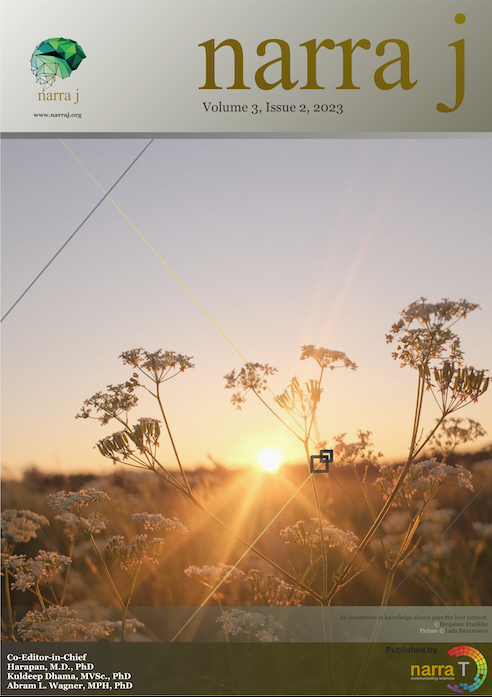 Downloads
Section
Short Communication
License
Copyright (c) 2023 Wahyu Lestari, Sitti Hajar
This work is licensed under a Creative Commons Attribution-NonCommercial 4.0 International License.