Quality of life and its predictors among people living with HIV in Muslim majority region: A cross-sectional study in Aceh
Keywords:
HIV, AIDS, antiretroviral, marital status, quality of life
Abstract
Human immunodeficiency virus (HIV) and acquired immune deficiency syndrome (AIDS) remain significant global health challenges addressed by countries worldwide. The advent of antiretroviral therapy (ARV) has significantly reduced morbidity and mortality of people living with HIV (PLHIV), transforming HIV/AIDS from a fatal disease to a manageable chronic disease. However, the increasing number of elderly individuals with HIV who experience early frailty syndrome presents new challenges and potential for diminished quality of life. The aim of this study was to assess the quality of life and to identify its significant predictors in PLHIV patients who have received ARV therapy in Banda Aceh, a Muslim-majority region in Indonesia. A cross-sectional study was conducted on all PLHIV who received ARV therapy at the voluntary counseling and testing (VCT) polyclinic at Dr. Zainoel Abidin Hospital, Banda Aceh, Indonesia between January and February 2023. The WHOQOL-HIV BREF instrument, a multi-dimensional tool developed by the World Health Organization (WHO), was used to assess the quality of life of the PLHIV, and potential predictors were assessed. The Chi-squared test was used to determine the predictors associated with the quality of patient's lives. Our data indicated that the majority of PLHIV were male (88%), 26–35 years old (78%), employed (92%), and unmarried (54%). Poor quality of life was dominant for the physical health (100%) and social relationships (76%) domains. In contrast, good quality of life was observed in aspects of independence, psychology, and spirituality, all reporting 100% results. Significant associations were found between married status (p=0.004) and medication adherence (p<0.001) with higher quality of life among PLHIV. In conclusion, married PLHIVs that received support from their partners regarding adherence to therapy exhibited a better quality of life. These results underscore the significance of sustained support systems and adherence strategies to enhance PLHIV's quality of life.
Downloads
Download data is not yet available.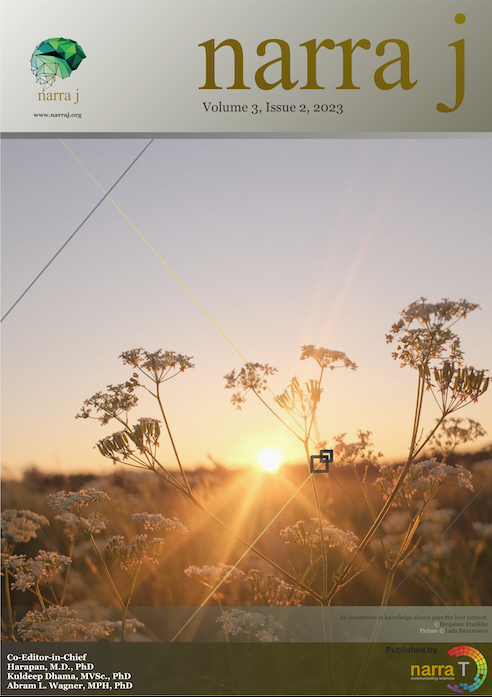 Downloads
Section
Short Communication
License
Copyright (c) 2023 Maryatun Hasan, Kurnia F. Jamil, Darmawi Darmawi, Maimun Syukri, Tita M. Liansyah, Anđelija Beočanin, Dava Erianza
This work is licensed under a Creative Commons Attribution-NonCommercial 4.0 International License.