A choledochal cyst type IVa in a child treated with Roux-en-Y hepaticojejunostomy
Keywords:
Choledochal cyst, hepaticojejunostomy, Roux-en-Y, congenital anomaly, bile duct
Abstract
A choledochal cyst is a bile duct anomaly that disrupts the transportation of bile from the liver to the gallbladder and small intestine. Choledochal cysts are rare, occurring in approximately one out of every 100,000 to 150,000 children in Western countries, with a girls-to-boys ratio of 4:1. Immediate surgery to excise the cyst and construct a biliary-enteric continuity is necessary to treat this condition. This case-report aimed to present a child with choledochal cyst type IVa who underwent a Roux-en-Y hepaticojejunostomy. A 3-year-11-month-old girl with an abdominal mass experienced jaundice, nausea, and vomiting over the past two years, which worsened in the last month. Abdominal ultrasonography indicated intrahepatic biliary dilatation. Abdominal computed tomography (CT) scan results confirmed a choledochal cyst type IVa, characterized by fusiform cyst dilatation at the bilateral intrahepatic bile duct, common hepatic duct, cystic duct, and common bile duct. The cyst exerted pressure on the pancreas and small intestine. Before the surgery, the patient was treated with ceftriaxone 100 mg/kg/day and gentamicin 5 mg/kg/day. Roux-en-Y hepaticojejunostomy was performed, involving the complete excision of the extrahepatic bile duct to reconstruct the biliary system. During the surgery, a retroperitoneal cyst measuring 20 cm x 10 cm with a volume of 200 cc was discovered. Following the surgery, the patient showed clinical improvement. Patient follow-ups indicated that no complications such as wound infection, acute pancreatitis, and the formation of pancreatic or biliary fistula occurred. This case highlights that Roux-en-Y hepaticojejunostomy proves to be an effective surgical approach for managing choledochal cyst type IVa in children, helping to prevent further complications.
Downloads
Download data is not yet available.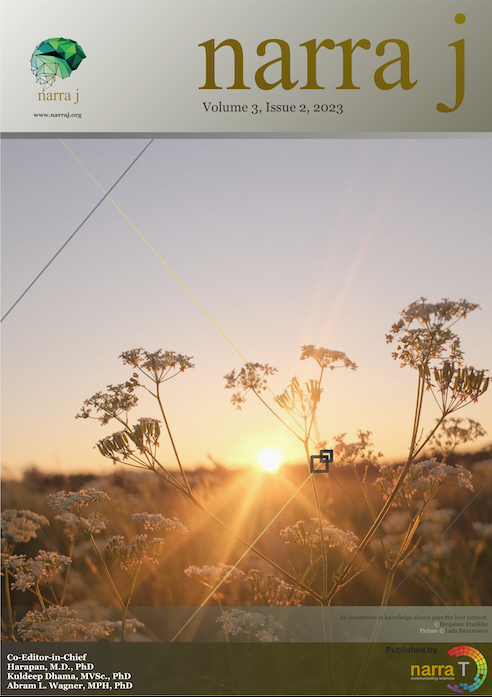 Downloads
License
Copyright (c) 2023 Sulaiman Yusuf, Alivia R. Nuriyanto, Nurul Nadia, Muntadhar Muntadhar, Yumna Muzakkir, Nurhayani D. Susanti, Zain Al-shather, Fenny Harrika
This work is licensed under a Creative Commons Attribution-NonCommercial 4.0 International License.