Green algae Caulerpa racemosa compounds as antiviral candidates for SARS-CoV-2: In silico study
Keywords:
Antiviral activity, binding affinity, Caulerpa racemosa, SARS-CoV-2, green algae
Abstract
Green algae (Caulerpa racemosa) are known to contain bioactive compounds which are hypothesized to have antiviral activities against severe acute respiratory syndrome coronavirus 2 (SARS-CoV-2), the causative agent of coronavirus disease 2019 (COVID-19) pandemic. The aim of this study was to analyze the anti-SARS-CoV-2 potential of compounds extracted from the green alga Caulerpa racemosa using in silico analysis. The extract was obtained through maceration with 96% ethanol and the compounds present in the extract were identified through gas chromatography-mass spectroscopy (GC-MS). The binding affinities were analyzed in silico using the PyRx application and visualized in the PyMOL software. GC-MS analysis of Caulerpa racemosa extract showed 92 spectral peaks, each of which was assigned to a bioactive compound. Of the six compounds with a strong binding affinity, n-[1-(1-adamantan-1-yl-propyl)-2,5-dioxo-4-trifluoromethyl-imidazo lidin-4-yl] 4-methoxy-benzamide had the lowest score (-8.1 kcal/mol) against the SARS-CoV-2 3C-like protease binding site, similar with that of remdesivir. The molecular dynamics calculations demonstrated that root means square deviation values of the selected inhibitors remained stable throughout a 15-nanosecond simulation. In conclusion, the in silico analysis suggests that Caulerpa racemosa extract is a potential antiviral candidate against SARS-CoV-2.
Downloads
Download data is not yet available.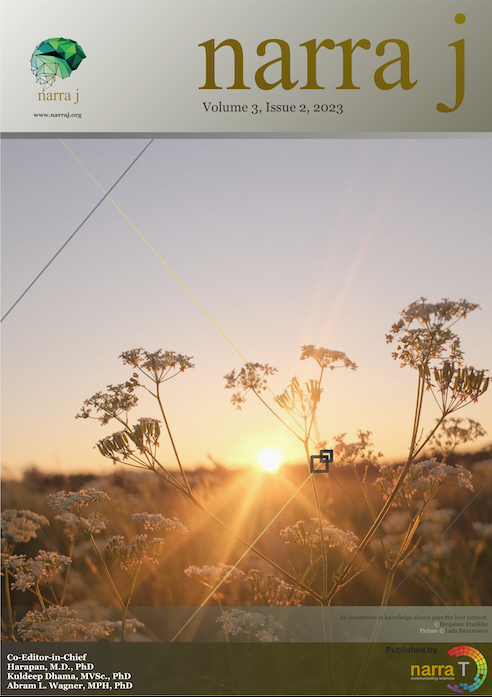 Downloads
License
Copyright (c) 2023 Asmi CMAR. Tassakka, Israini W. Iskandar, Andi BA. Juniyazaki, St Zaenab, Jamaluddin F. Alam, Haerani Rasyid, Kasmiati Kasmiati, Ellya Sinurat, Fenny M. Dwiany, Ronni Martien, Abigail M. Moore
This work is licensed under a Creative Commons Attribution-NonCommercial 4.0 International License.