Antibacterial and anti-inflammatory activities of Nothopanax scutellarium, Moringa oleifera and Piper betle extracts on staphylococcal mastitis animal model
Keywords:
Nothopanax scutellarium, Moringa oleifera, Piper betle, mastitis, interleukin 6
Abstract
Inappropriate and prolonged administration of antibiotics in mastitis could cause antibiotic resistance and herbal treatment might could be one alternative treatment. Nothopanax scutellarium, Moringa oleifera, and Piper betle are medicinal plants that contain various active compounds, including antibacterial and anti-inflammatory agents, but their potentials in treating mastitis are not well understood. The aim of this study was to assess the effectiveness of those plants against mastitis in rabbit model induced by Staphylococcus aureus. A total of 25 lactating rabbits (Oryctolagus cuniculus) weighing 3.0±0.4 kg were grouped into five groups: healthy control; mastitis control, and three treatment groups (Nothopanax scutellarium, Moringa oleifera, and Piper betle). Except the healthy control group, all animals were inoculated with 0.15 mL of Staphylococcus aureus containing 1.5x107colony forming unit (CFU)/mL on eight days after giving birth. The extract was administered orally after four hours Staphylococcus aureus inoculation at a dose of 50 mg/kg body weight, twice a day for five consecutive days. The number of bacteria in the milk and the level of serum interleukin 6 (IL-6) were measured and histopathological examination of mammary gland tissues were analyzed. The log number of total plate count of Staphylococcus aureus indicated that all extract groups had significant lower of bacterial logs compared to mastitis control (all comparisons had p<0.05) with the lowest was found in Piper betle group, followed by Nothopanax scutellarium and Moringa oleifera. The enzyme-linked immunosorbent assay (ELISA) results showed that all ethanolic extract groups had significantly lower levels of IL-6 compared to the mastitis control (all comparisons had p<0.05). The histopathologyassessment suggested that extract groups had lower infiltration of inflammatory cells such as lymphocytes and macrophages in alveoli compared to the mastitis control group. In conclusion, all three extracts contained antibacterial and anti-inflammatory activities and Piper betle had the most effective in reducing bacterial growth and IL-6 level compared to others.
Downloads
Download data is not yet available.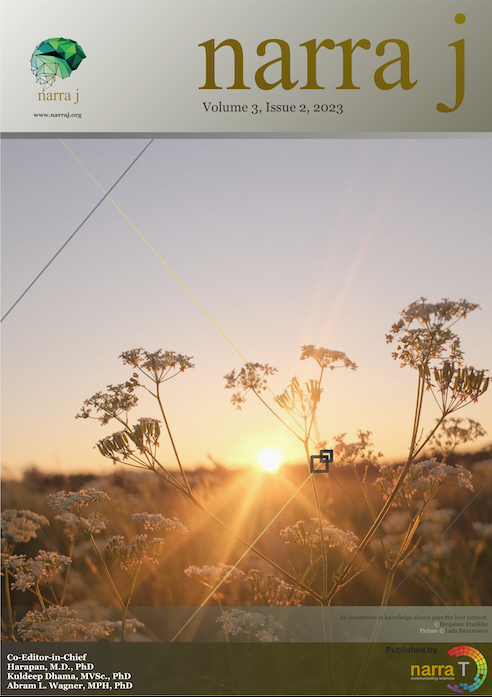 Downloads
Section
Short Communication
License
Copyright (c) 2023 Cut Sriyanti, Tongku N. Siregar, Mudatsir Mudatsir, Azhari Gani, Denny I. Hasan, Amalia Sutriana
This work is licensed under a Creative Commons Attribution-NonCommercial 4.0 International License.