A large primary lung abscess due to Klebsiella oxytoca: How critical the combination between early antibiotic therapy and bronchoscopy?
Keywords:
Lung abscess, antibiotic therapy, bronchoscopy, Klebsiella , K. oxytoca
Abstract
Lung abscess is a microbial infection that can cause necrosis of the lung tissue and formation of cavities. Antibiotics and bronchoscopy are needed in the management of large lung abscess to prevent further complications. However, some of the cases have poor clinical improvement. The aim of this case report was to describe a patient with large lung abscess who had well responded to antibiotic therapy combined with bronchoscopy drainage. We reported a 55-year-old man with a lung abscess presented with initial symptom of acute productive cough for two weeks. Chest computed tomography (CT) scan with contrast of patient indicated a massive abscess on the right lung segment with a size of 10.9 x 10.41 x 8 cm. Laboratory examination showed leukocytosis. Bronchoscopy was performed as a diagnostic and therapeutic procedure. Antibiotic resistance test was conducted from bronchoalveolar lavage sample to determine the most suitable antibiotics for the patient. The culture yielded a positive for Klebsiella oxytoca that was resistant to ampicillin and cefazolin. The bacterium was sensitive to piperacillin-tazobactam, aztreonam, ceftazidime, ceftriaxone, ertapenem, cefepime, nitrofurantoin, meropenem, amikacin, gentamicin, ciprofloxacin, tigecycline, trimethoprim- sulfamethoxazole, and levofloxacin. Levofloxacin 750 mg injection was given for 14 days followed with oral levofloxacin 500 mg once a day for four weeks and bronchoscopy to stop the microbial infection process in the lung tissues. Lung abscess reduced significantly and the patient was followed until recovered. In conclusion, early combination therapy of adequate antibiotics and bronchoscopy is effective in treating a massive lung abscess caused by Klebsiella oxytoca.
Downloads
Download data is not yet available.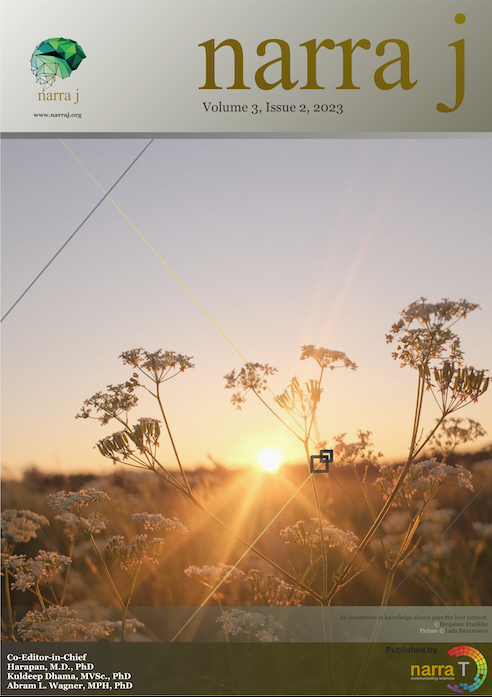 Downloads
License
Copyright (c) 2023 Brigitta DA. Hapsari, Melita Melita, Affan R. Ismail, Farah NT. Djatmika
This work is licensed under a Creative Commons Attribution-NonCommercial 4.0 International License.