Coronary heart disease risk factors among academic workers based on the Jakarta Cardiovascular Score: A cross-sectional study
Keywords:
CHD, campus-worker, risk factor, risk level, cardiovascular
Abstract
Change in lifestyle leads to change in disease patterns from infectious diseases and malnutrition to degenerative diseases, such as coronary heart disease (CHD). The increasing prevalence of cardiovascular diseases among Indonesian workers and the general public will not only burden medical care expenses but also reduce work productivity, leading to more work-related injuries and work-related losses. The aim of this study was to determine the risk factors for CHD (age, sex, blood pressure, smoking, diabetes mellitus, body mass index, and weekly physical activity) and the CHD risk level among university workers. A cross-sectional study was conducted at workers at School of Medicine, Universitas Malikussaleh, Lhokseumawe, Indonesia. The risk level of CHD was calculated using Jakarta Cardiovascular Score and predicting model analyzed with multiple logistic regression model. Our data found that 58.2%, 25.5% and 16.3% of the university workers had low-, medium- and high-risk to have CHD. The final model indicted that the risk of heart disease was determined by gender, age, and the presence of hypertension and diabetes mellitus. Being male had odds ratio (OR) 30.84, aged >41 years old had OR 11.52, having hypertension had OR 4.87 and having diabetes mellitus had OR 13.99 for having high risk of CHD compared to female, those younger than 41 years old, having no hypertension and having no diabetes mellitus, respectively. In conclusion, our data suggests that more than 15% the respondents (university employees) have high risk of CHD and being male and older, and having hypertension and diabetes mellitus are associated with risk of CHD. Implantation of the preventive measures is therefore important to be implemented at the universities.
Downloads
Download data is not yet available.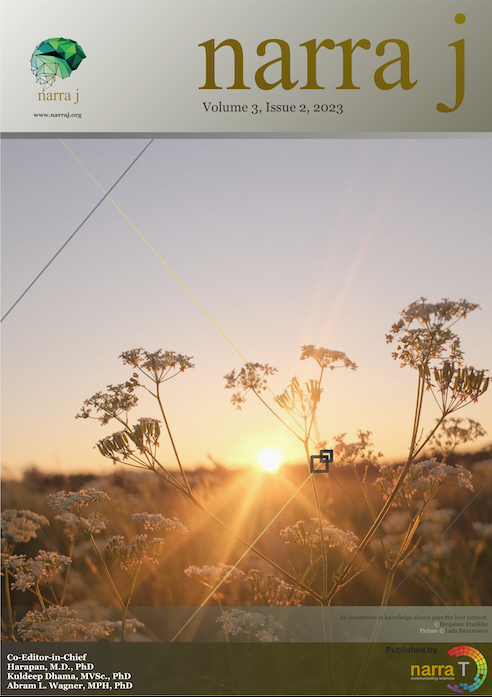 Downloads
Section
Short Communication
License
Copyright (c) 2023 Harvina Sawitri, Nora Maulina
This work is licensed under a Creative Commons Attribution-NonCommercial 4.0 International License.