Celiac disease: Pathogenesis, disease management and new insights into the herbal-based treatments
Keywords:
Celiac disease, autoimmune disorder, gluten, human leukocyte antigen, genetic
Abstract
Celiac disease (CD) is a gluten intolerance autoimmune disorder which its symptoms involve the gastrointestinal tract and sometimes the other organs. It is one of the most prevalent health problems rising in many populations as statistics show that in every 100 people about one person is suffering from CD. It has been observed that the persons who genetically contain the human leukocyte antigen (HLA) DQ2 and HLA DQ8 genes involved in the immune system haplotypes are more prone to develop an allergy to gluten. The only treatment currently available for CD is a strict gluten-free diet. However, recent research has shown promising new insights into the herbal-based treatments of CD. New insight on CD is now offering various prospects to manage its treatment, diagnosis, and serving in the development of advanced therapies. Several herbs and botanical extracts have demonstrated anti-inflammatory, immunomodulatory, and gut-healing properties that make them potential candidates for the management of CD. Here, we provide an updated review on pathogeneses and managements of CD. In particular, we summarize the current understandings of herbal-based treatments for CD and highlights their potential benefits.
Downloads
Download data is not yet available.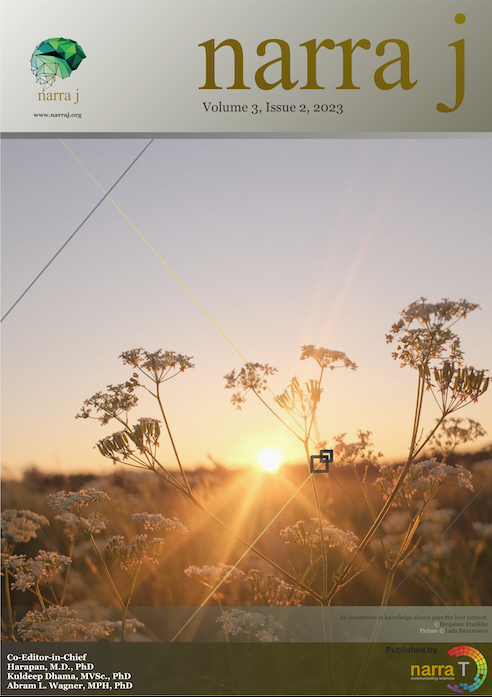 Downloads
License
Copyright (c) 2023 Pooja Mittal, Disha Arora, Smriti Parashar, Rajat Goyal, Amir Khan, Hitesh Chopra, Dinesh K. Mishra, Rupesh K. Gautam, Kuldeep Dhama
This work is licensed under a Creative Commons Attribution-NonCommercial 4.0 International License.