Chronic total occlusion percutaneous coronary intervention (CTO PCI) in an intractable heart failure patient: Is there any benefit?
Keywords:
CTO, PCI, heart failure, revascularization, J-CTO
Abstract
One of the most difficult procedures in interventional cardiology is the percutaneous coronary intervention (PCI) on a chronic total occlusion (CTO) lesion case. To rate the difficulty of guidewire crossing, several angiographic scoring methods have been developed such as the Japan CTO (J-CTO) score. Here we demonstrate the advantages of revascularization using PCI procedure in a CTO case with intractable heart failure. A 53-year-old man presented to the emergency room of Dr. Zainoel Abidin Hospital, Banda Aceh, Indonesia with acute decompensated heart failure. The patient had a history of past PCI with two patent drug eluting stents (DES): one in the left main (LM)-left anterior descending (LAD) artery and one in the distal left circumflex (LCX) artery. The patient had three times rehospitalizations in the last three months. According to single-photon emission computed tomography (SPECT) imaging, the right coronary artery was remained functional; however, the lesion was categorized into very difficult level (J-CTO >3). The PCI was carried out on the right coronary artery and the blood vessel was successfully revascularized after applying multiple techniques. Following the procedure, the heart failure was treated and the 6-minute walking test (6MWT) that performed 12 days after the PCI increased from 220 to 260 meters. The success of this case depended on a comprehensive history taking, adequate imaging methods, and the selection of the proper tools and PCI strategy. In conclusion, despite the challenges, PCI is still an option for patients with persistent complete occlusion. The PCI requires comprehensive preparation and the use of angiographic scoring systems, such as the J-CTO score, to determine the approach and the likelihood of success.
Downloads
Download data is not yet available.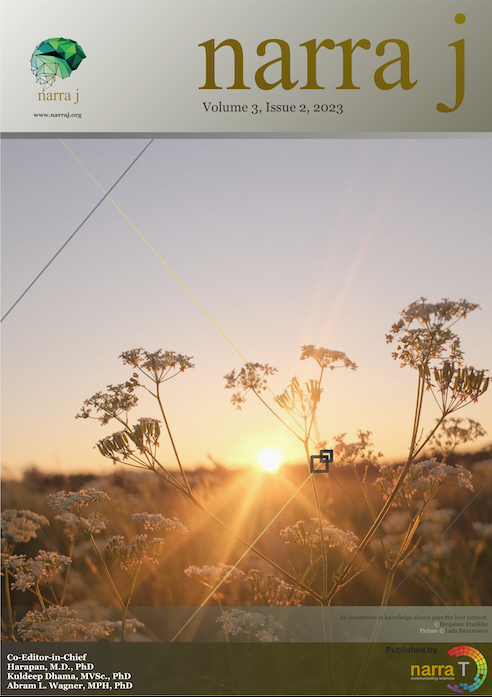 Downloads
License
Copyright (c) 2023 Haris Munirwan, Fahmi A. Kusyanto, Zanisa Zanisa, Muhammad H. Latief
This work is licensed under a Creative Commons Attribution-NonCommercial 4.0 International License.