Phenotypical and molecular assessments on the pharmacological effects of curcumin in Drosophila melanogaster
Keywords:
Antioxidant, Curcumin, D. melanogaster, fruit fly, COPD
Abstract
Curcumin, a dietary polyphenol derived from turmeric's rhizome, exhibits a range of pharmacological activities, such as antioxidant, analgesic, antipyretic, and anti-inflammatory effects. It has been investigated for its therapeutic potential in chronic obstructive pulmonary disease (COPD) due to its ability to inhibit nuclear factor kappa B (NF-κB), modulate oxidative stress, impact cell viability, and regulate gene expression. However, most studies have been limited to in vitro conditions. To address this gap, we conducted in vivo experiments using the fruit fly Drosophila melanogaster to explore the antioxidant activities and biological significance of curcumin. Several parameters were assessed using different assays, including curcumin toxicity assay, fly survival, locomotor response to curcumin treatment (with or without cigarette smoke), trypan blue staining, larval crawling assays, and gene expression analysis. Our data revealed no significant differences in toxicity and locomotor tests across various curcumin concentrations. D. melanogaster tolerated curcumin at concentrations of 0.5 µM, 5 µM, 50 µM, and 500 µM, suggesting its safety without negatively impacting locomotor. Furthermore, curcumin at 5 µM extended the lifespan of D. melanogasterexposed to cigarette smoke, while reversing the negative effects of smoke exposure on gut cell viability and larval locomotor activity. In conclusion, curcumin administration appeared safe for D. melanogaster, with potential benefits for longevity and locomotory function. These findings support the idea that curcumin possesses in vivo antioxidant properties and may serve as a promising pharmacological agent. However, further study is needed to explore its potential applications in human health and disease management, particularly in the context of COPD.
Downloads
Download data is not yet available.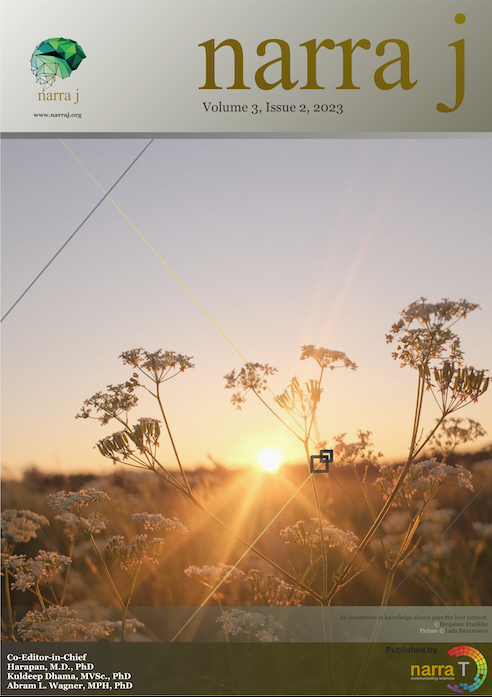 Downloads
License
Copyright (c) 2023 Nur R. Rumata, Dewi Purwaningsih, Asbah Asbah, Muh. Fadhil As'ad, Deepak Chadran, Talha B. Emran, Firzan Nainu
This work is licensed under a Creative Commons Attribution-NonCommercial 4.0 International License.