Antioxidant and antiaging activity of Cinnamomum burmannii and Michelia champaca extract and combinations
Keywords:
Antioxidant, anti-aging, champaca, cinnamon, flavonoid, anti-tyrosinase
Abstract
Aging is a natural skin process that occurs due to intrinsic and extrinsic factors, such as excessive exposure to ultraviolet light (photoaging). The mechanism of damage involves the production of excess free radicals that trigger oxidative stress in the skin. Determining the natural products that have high antioxidant activities as antiaging is up most important. Cinnamomum burmannii and Michelia champaca are typical Aceh plants that are believed to have high antioxidant effects. The aim of this study was to determining the contents of C. burmannii and M. champaca as well as to determine the antioxidant and antiaging activities of either individually or combinations. The qualitative phytochemical and semi-quantitative analysis of the extracts were conducted using gas chromatography and mass spectroscopy (GC-MS). The antioxidant activity was examined by radical scavenging using the DPPH radical while the antiaging activity was tested the tyrosinase enzyme inhibition test. The phenolic and flavonoid contents of C. burmannii were higher than M. champaca (66.34 vs 24.71 mg gallic acid equivalent/gr) and (80.52 vs 60.20 mg quercetin equivalent/gr). The inhibitory concentration (IC₅₀) of M. champaca extract in inhibiting DPPH indicated that M. champaca had a better antioxidant activity than C. burmannii. The combination of C. burmannii and M. champaca extracts had a lower IC₅₀ compared to M. champaca alone. C. burmannii and M. champaca extract had a weak potential to inhibit tyrosinase activity (IC₅₀ value ≥1000 µg/mL). In conclusion, this study indicates that M. champaca and C. burmannii have strong antioxidant activities and these might associate with polyphenol contents.
Downloads
Download data is not yet available.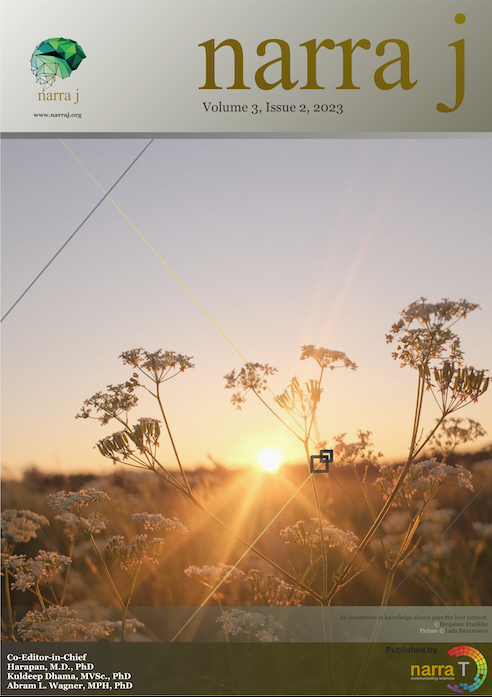 Downloads
License
Copyright (c) 2023 Waisul Qarani, Fauzul Husna, Winda Yulia, Zulkarnain Zulkarnain, Dedy Syahrizal, Basri A. Gani, Nirwana L. Sary, Bantari WK. Wardhani
This work is licensed under a Creative Commons Attribution-NonCommercial 4.0 International License.